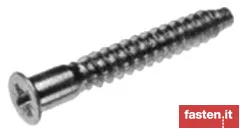 Suppliers of Furniture fasteners, accessories for wood and metal construction
SEND YOUR REQUEST FOR QUOTATION FOR FURNITURE FASTENERS, ACCESSORIES FOR WOOD AND METAL CONSTRUCTION
Full list of Suppliers of Furniture fasteners, accessories for wood and metal construction
SEARCH RESULTS: 152
Premium Advertiser

Kilton s.r.l.
Company specialized in the production of fasteners and fixings for industrial applications in the following fields: automotive, home appliances, mechanical, components, building industry. Leader in the manufacturing of special fasteners.

CORBETTA ERMANNO S.R.L.
Production of special items following the customer drawing: special screws, rivets, half bored rivets, pins, spacers and sleeves. Materials: iron, stainless steel, copper, brass, aluminium with heat and galvanic treatments.
CERTIFICATIONS:
ISO 9001:2015

DEGA DEMİR A.Ş.
The company, established in 1982, is a manufacturer and exporter of fastening products (screws,bolts) and wires (welding wires SG2 ER70S-6, spring wires stitching / staple wires). Fasteners produced for automotive, durable goods, furniture, home appliances, etc.. The company is awarded ISO 9001 / 2008, ISO/TS 16949, TSE and supply quality products at competitive prices and in short delivery terms.
CERTIFICATIONS:
ISO 9001-2008 | ISO/TS 16949-2009 | ISO 14001 | TSE (Türk Standardlari Enstitüsü / Turkish Standard Institution) | BS EN 14-399-3

Edgar Borrmann GmbH & Co. KG
We supply more than 4,000 workshops, carpenters, metal construction companies and industries, in an area of 80 kilometers. The wide range of about 35,000 items guarantees high availability in stock. Thanks to our fleet of 10 trucks, we are able to provide our customers a reliable and quick service.

Jiaxing Aoke Trade Co., Ltd
Manufacturer and distributor of anchors, self drilling and confirmat screws

Monga Strips Limited
Monga is one of the leading manufacturers and distributors of cold rolled coils and fasteners in the northern part of India. In our factory, we produce using up-to-date technology and ultra modern and highly advanced equipment.
PANOZZO S.r.l.
Manufacturer of plastic fasteners for fixing and assembly: screws, washers, spacers, set screws, nuts, nut caps and screw caps, cable ties, rivets, buttons, fasteners, clips and plastic grommets.
LINEA ERRE SRL
Since 1981, we have been producing industrial staples of various sizes, for application in wood and building sectors. Our corrugated fasteners are 100% Italian, thanks to a careful choice of our suppliers and thanks to the in-house production. We work internationally and we are focused on our customers' needs. Our strong points: reliability, honesty and expertise.
INFORMATION RESTRICTED TO THE REGISTERED USERS
A...
Distributor, specialized in high tensile socket cap fasteners
INFORMATION RESTRICTED TO THE REGISTERED USERS
A...
Manufacturer of hinges for furnitures
Related searches:
Accessories & hardware for metal fittings
,
Barrel joints
,
Break off machine screws
,
Confirmat screws
,
Corrugated fasteners
,
Coverhead screws
,
Eccentric connectors and special items
,
Fasteners for aluminium profiles
,
Furniture fasteners, window screws
,
Hardware and hinges for wood
,
insert nuts
,
Joint connector nuts
,
Joint connector nuts/screws
,
Leveling feet
,
Male / female junction screws
,
Plates and junctions for wood constructions
,
Shelf supports
,
Shelf supports
,
Assembly screws
,
Automatic furniture bolt
,
Barrel nuts
,
Bed hooks
,
Binding post nuts
,
Brass hinge
,
Break off machine screws
,
Chicago screws
,
confirmat screws
,
Connecting brace
,
Connecting plate
,
Corner brace
,
Corner plate
,
Eccentric
,
euro screw
,
euro screws
,
euroscrew
,
euroscrews
,
Furniture bolt
,
Furniture bolt
,
Hinge
,
Hinge fixed pin
,
Hinge with stop
,
Insert nuts
,
Join plate
,
Joint connector nuts
,
Knock down support
,
L bracket
,
Male female screws
,
Pivot
,
Pivot with brass sleeve
,
Plate with threaded hole
,
Protection caps
,
sex bolts
,
Shelf supports
,
Sliding bolt
,
Strike
,
Universal support
,
Weld-on hinges
,
Welded bracket
,
wood connector
,
woodconnector