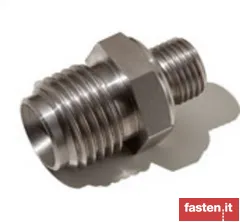 Suppliers of Machined / turned fasteners
SEND YOUR REQUEST FOR QUOTATION FOR MACHINED / TURNED FASTENERS
Full list of Suppliers of Machined / turned fasteners
SEARCH RESULTS: 245
Premium Advertiser

BERARDI BULLONERIE S.r.l.
Thanks to the wide range of products, to the punctuality and timeliness in responding to the customers' requests, it distributes its products to different kinds of clients, set in the whole national territory and specialized in different fields.
CERTIFICATIONS:
ISO 9001:2015
Premium Advertiser

KEBA FASTENINGS
Distributor of fasteners and inserts: thread-forming screws, cold-formed parts, hot-formed parts and custom made products
CERTIFICATIONS:
ISO 9001:2015 | IATF 16949:2016

Everfast Dis Ticaret Limited Sti.
Manufacturer of thread cutting screws, thread forming screws, screws for plastic materials and special cold forged screws
CERTIFICATIONS:
ISO 9001:2015

IPL s.r.l.
Producer of ASTM nuts, ASTM studs, B7 studs, ASTM screws, B7 screws, B16, B8, B8M, L7, L7M, F51, F55, 660, duplex, superduplex, titanium
F.L.Z. FASTENERS S.R.L.
Distributor of standard fasteners and manufacturer of special custom made parts. Product range : from ø 1 mm. to ø 60 mm. We answer quickly, we don't waste time if we cannot supply the client with the material; even if we are competent, we always have something to learn.
Hi-Mount Exports
Manufacturer and exporter of precision turned components using single spindle automats, sliding heads and CNC/VMC turning centers along with non-standard fasteners cold & hot forged in mild steel, brass and stainless and sheet metal pressings/stampings and Inserts. ISO 9001:2000 certified company based in India with a administrative office in the UK.
Magro Verbindungselemente
MAGRO combines the highest standards for special parts and assemblies upon customer's drawing. Our portfolio focuses on CNC machining, stamping and forming technology. Thanks to optimised technologies and material selection, we are able to reduce our procurement costs while maintaining high quality standards, in order to increase your purchasing power.
Sonderschrauben Güldner GmbH &Co. KG
Güldner produces special bolts, nuts and CNC turned parts to customers' requirements from special materials. They provide certificates acc. to DIN EN 10204 / 2.2, 3.1, 3.2, TÜV, GL, LR, BV etc. Güldner is TÜV-accredited producer to AD2000-Merkblatt W0 / TRD 100 with a QM system to ISO 9001, KTA 1401, conforming to PED 97/23/EC.
INFORMATION RESTRICTED TO THE REGISTERED USERS
A...
Manufacturer of turned fasteners and distributor of bolts and screws
INFORMATION RESTRICTED TO THE REGISTERED USERS
A...
Manufacturer of turned parts and fasteners