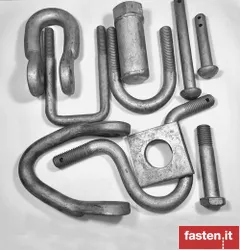 Suppliers of Fasteners for carpentry / buildings / hot dip galvanized (HDG)
SEND YOUR REQUEST FOR QUOTATION FOR FASTENERS FOR CARPENTRY / BUILDINGS / HOT DIP GALVANIZED (HDG)
Full list of Suppliers of Fasteners for carpentry / buildings / hot dip galvanized (HDG)
SEARCH RESULTS: 59

BB Viterie
Distribution and production of standard and special fasteners. Studs and bolts in steel 8.8-B7-L7-B8-Duplex-carbon steel. Nuts and bolts from diameter 2 to 100. Wide product range on stock in steel, HDG, brass and stainless steel A2 and A4.

BENDKOPP FASTENERS IMPORT EXPORT S.R.L.
Fasteners for: automobile, ironwork, furniture, producers of aluminum & PVC carpentry, agricultural machinery, mechanical engineering, fine mechanics, wood, metallic structures, food, energetic, chemical, petrochemical, gas, nuclear, nautical.
CERTIFICATIONS:
ISO 9001:2008

CANCO FASTENERS
CANCO FASTENERS is an international manufacturer of high quality fixings and fasteners, active since 50 years. We have a variety of nuts, bolts, washers, screws, threaded bars, clamps, rivets, wire ropes, nails and raw material in M.S. S.S 316, 304 grades and brass.

Eurobolt
Polish products acc. norm DIN / ISO and drawings Diameter: M6 to M100 (especially bigger diameter) Materials: 5.6 / 8.8 / 10.9 / 12.9 / 25CrMo4 / 42CrMo4 Treatment: ZN / HDG (tZn) / flZnnc EN 15048 SB sets "CE" Made in Poland EN 14399 HV sets "CE" Made in Poland
CERTIFICATIONS:
ISO 9001:2015

FIXNER
Fixner is specialized in the export of a wide range of fasteners products, industrial supplies, and tools. We offer a wide range of bespoke fasteners and screws and bolts according to DIN, ISO, EN, NF, ANSI, ASME and ASTM standards.

Haemers
Manufacturer of standard flat washers ISOPLAC washers, also called pressure plates, used to secure insulation.
CERTIFICATIONS:
ISO 9001:2015

IPL S.r.l.
Producer of ASTM nuts, ASTM studs, B7 studs, ASTM screws, B7 screws, B16, B8, B8M, L7, L7M, F51, F55, 660, duplex, superduplex, titanium

Stafa
Specialists in hot dip galvanized fasteners Stafa is a leading European importer of fasteners and fixings with a huge range of more than 75,000 products. Private label packaging, assembled sets and kits, direct manufacturer to customer for large volumes, retail store concepts, special parts and complete project deliveries.

Triofast BV
Distributor of standard and special fasteners. The company supplies fasteners with various types of thread: UNC, UNF, BSW and BSF. The products meet standards such as ISO, DIN, ASTM, ANSI and BS.
INFORMATION RESTRICTED TO THE REGISTERED USERS
A...
Manufacturer of hinges and hardware for metal fixings