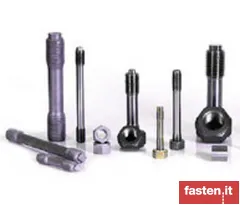 Suppliers of Fasteners, studs and nuts for the oil and gas industry (ASTM standards)
SEND YOUR REQUEST FOR QUOTATION FOR FASTENERS, STUDS AND NUTS FOR THE OIL AND GAS INDUSTRY (ASTM STANDARDS)
Full list of Suppliers of Fasteners, studs and nuts for the oil and gas industry (ASTM standards)
SEARCH RESULTS: 132

BB Viterie
Distribution and production of standard and special fasteners. Studs and bolts in steel 8.8-B7-L7-B8-Duplex-carbon steel. Nuts and bolts from diameter 2 to 100. Wide product range on stock in steel, HDG, brass and stainless steel A2 and A4.

IPL s.r.l.
Producer of ASTM nuts, ASTM studs, B7 studs, ASTM screws, B7 screws, B16, B8, B8M, L7, L7M, F51, F55, 660, duplex, superduplex, titanium

S&W Corporation
World class manufacturer of bespoke hot forged/heat treated Industrial bolts & nuts and Marine engine components.
CERTIFICATIONS:
KEPIC-MN, SN | ISO 14001-2015 | NORSOK M-650 | ISO 9001:2015 | CE (PED) | OHSAS 18001:2007 | ISO 45001:2018 | EN 9001:2018
Bondoli & Campese Srl
We are traders of fasteners and studding since 1963. With a stock of more than 90.000 items we supply high and very high stength fasteners, special fasteners, studding for the industry and fasteners following drawing. We also deal with products with several coatings: Geomet, trivalent galvanizing, hot dip galvanizing, teflon coating, zinc-nickel, etc...
NINGBO BOLTS HARDWARE CO., LTD
Bolts producer, material B7, B16, B8, B8M, L7, L7M, 660, Monel, Inconel, duplex.
S F C (Europe) Ltd
SFC (Europe) is a Norsok accredited manufacturer and stockholder of fully traceable non-standard fasteners in accordance to the ASTM/ASME grades, in addition to Petrochemical & Inconel. We currently service many sectors, including Oil & Gas, Petrochemical, Defence & Nuclear amongst others.
Steelfast B.V.
Distributor of special fasteners and standard fasteners for steel constructions, offshore, chemical, mechanical, shipbuilding, gas and energy field.
Sultan Global Services BV.
Distributor of fasteners, coils and plates
Triplefast Middle East Ltd
Triplefast Middle East is a regional supply hub for the MENA APAC region offering a unique service of logistical supply and manufacture of fasteners and gaskets. We keep stock of various range of products to meet the demands of the Oil and Gas and Petrochemical market industries.
WTE PowerBolt LTD
Manufacturer specialized in fasteners for the oil and gas industry from M8 up to M140 and from 3/8" up to 7"
CERTIFICATIONS:
ISO 9001:2015 | ISO 9001:2016 | PED 2014/68 EU | ISO 14001:2015 | OHSAS 18001:2008 | PED 2014/68/EU (PED 97/23 EC) | AD 2000 Merkblatt W0