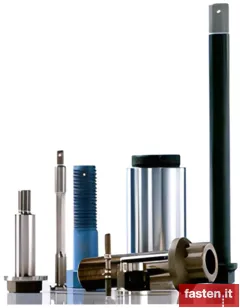 Suppliers of Superalloys fasteners
SEND YOUR REQUEST FOR QUOTATION FOR SUPERALLOYS FASTENERS
Full list of Suppliers of Superalloys fasteners
SEARCH RESULTS: 87
Premium Advertiser

Jiaxing Haina Fastener Co. Ltd.
Jiaxing Haina Fasteners is a stainless steel fastener supplier. We have a large Stock. The materials include A2 A4, 316Ti, 904L, 2205 and 2507. Our main products are bolts, nuts, screws, threaded bars, washers
CERTIFICATIONS:
ISO 9001:2015
Premium Advertiser

TOBSTEEL GmbH
We, at TOBSTEEL, are specialists in the field of corrosion resistant stainless steel fasteners! As wholesalers we have been specializing in the buying and selling of corrosion and acid resistant fasteners, worldwide (standard, special and following drawing) and we have more than 25.000 different fasteners available on stock, in corrosion resistant materials such as 1.4571 (A5), 1.4462 (DUPLEX), 1.4529 (HCR), A2 and A4.
CERTIFICATIONS:
DIN EN ISO 9001:2015

BB Viterie
Distribution and production of standard and special fasteners. Studs and bolts in steel 8.8-B7-L7-B8-Duplex-carbon steel. Nuts and bolts from diameter 2 to 100. Wide product range on stock in steel, HDG, brass and stainless steel A2 and A4.

Italbolt Inox Service Spa
Leader distributor of stainless steel fasteners on national and foreign markets. The strength of the company is on its brand name: SERVICE, that is quick and flexible thanks to a large inventory and competitive prices. The company is also a specialist of UNC/UNF stainless steel fasteners.
CERTIFICATIONS:
ISO 9001:2008

KANBAN SERVIS s.r.o.
Distributor of standard and special fasteners with experiences since 1997, working in the following fields: engineering, electrotechnical, automotive, mining, petrochemical industry, etc. The company puts emphasis on the quality, buying only from prestigious european producers - ISO 3269 certified - with established Quality Management System. The company provides free sophisticated services KANBAN, JUST-IN-TIME, etc.

S&W Corporation
World class manufacturer of bespoke hot forged/heat treated Industrial bolts & nuts and Marine engine components.
CERTIFICATIONS:
KEPIC-MN, SN | ISO 14001-2015 | NORSOK M-650 | ISO 9001:2015 | CE (PED) | OHSAS 18001:2007 | ISO 45001:2018 | EN 9001:2018
IPP Stainless Steel Fasteners Limited
UK manufacturer of non-standard Bolting in Special Materials including Stainless Steel, Super Duplex, Nickel Alloys and Titanium. On-site manufacturing includes Hot Forging, Thread Rolling and CNC Turning, Milling and Threading. All manufactured products are Fully Certified and Fully Traceable using only UK/EU/G7 materials.
Mahaveer Overseas
Mahaveer overseas is a manufacturer and supplier of carbon steel, alloy steel, stainless steel, duplex steel, super duplex steel, monel and hastelloy fasteners with standard dimension along with customized product.
Nicrmo Fasteners pvt ltd
Manufacturer of stainless steel and high nickel alloys stud bolts, hot forged hex nuts, hex bolts, eye bolts and u bolts
INFORMATION RESTRICTED TO THE REGISTERED USERS
A...
Manufacturer and exporter of fasteners in Hastelloy, titanium, Inconel, Monel, etc
CERTIFICATIONS:
ISO 9001-2008
Related searches:
Superalloys fasteners: Hastelloy, Monel, Inconel, Nimonic, Incoloy...
,
Alloy
,
Aluminium-Bronze
,
DUPLEX
,
Ferraliu
,
Hastelloy
,
Inconel
,
Inconel
,
Kuprodur
,
Monel
,
Nimonic
,
SAF2205
,
SUPERDUPLEX
,
Titanium
,
Zeron