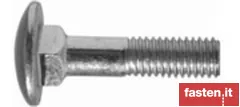 Suppliers of Round head bolts with square neck or nibs
SEND YOUR REQUEST FOR QUOTATION FOR ROUND HEAD BOLTS WITH SQUARE NECK OR NIBS
Full list of Suppliers of Round head bolts with square neck or nibs
SEARCH RESULTS: 68

Arnelitos prekyba - WESTBOLT
Wholesaler and distributor of high quality fasteners

BRK INDUSTRIES
We are manufacturer of bolts and nuts since 1980, with over 50 years of experience in the fastener industry. Thanks to our experience, quality and service offered, we have made a mark on the field.
CERTIFICATIONS:
ISO 9001-2000

CANCO FASTENERS
CANCO FASTENERS is an international manufacturer of high quality fixings and fasteners, active since 50 years. We have a variety of nuts, bolts, washers, screws, threaded bars, clamps, rivets, wire ropes, nails and raw material in M.S. S.S 316, 304 grades and brass.

Chin Well
Manufacturer and supplier of high-quality carbon steel fasteners, hexagon, socket, HDG, railway screws. Sizes from M6 to M24
CERTIFICATIONS:
ISO 9001-2008

Ezel Civata Sanayi ve Ticaret A.Ş.
Manufacturer and distributor of bolts, nuts and rivets. Metric fasteners range from 3 to 20 in diameter and 8mm to 165mm in length. Whitworth fasteners range from 1/8" to 3/4" in diameter and 5/16" to 6 1/2" in length.
CERTIFICATIONS:
ISO 9001-2008

Kraft - Bulgaria Ltd.
Kraft Bulgaria EOOD is a leading BG company specialized in the trade of fasteners, industrial supplies, industrial armature for water, industrial, fire-frightening systems and irrigation sectors. Our success is due to the high quality of the offered products, the professionalism and qualification of our team, as well as our flexible distribution network.
CERTIFICATIONS:
ISO 9001:2015

Stafa
Specialists in hot dip galvanized fasteners Stafa is a leading European importer of fasteners and fixings with a huge range of more than 75,000 products. Private label packaging, assembled sets and kits, direct manufacturer to customer for large volumes, retail store concepts, special parts and complete project deliveries.

Weyland Steiner Handwerks - & Industriebedarf GmbH & Co KG
The company Weyland-Steiner is a flexible supplier of norm, standard, drawing and special parts, as well as C-parts management! Our strength is the rapid procurement of special parts in all materials and surfaces. Full-service trader of tools, fittings and hardware.
PERFECT WASHERS & FASTENERS PVT.LTD
We are a manufacturer and exporter of bolts and nuts as per DIN 601/555, hexagon building screws and DIN 603/555 mushroom headed square neck bolts / carriage bolts with nuts. We offer fasteners in steel grade 4.6, 4.8 and 5.6, in zinc-plated, plain and hot dip galvanized steel.
INFORMATION RESTRICTED TO THE REGISTERED USERS
A...
Manufacturer of anchor bolts, square head bolts, carriage bolts and stud bolts
Related searches:
Clevis pins with head and threaded portion
,
Countersunk bolts with double nib
,
Countersunk double-nib bolts, sinkings, metric thread, finish g, Agricultural equipment
,
Cup head square neck bolts
,
Cylindrical countersunk screws
,
Elevator bolts
,
Flat countersunk head nib bolts
,
Flat countersunk head square neck bolts with long square
,
Flat countersunk square neck bolts with short square
,
Round cup head nib bolts
,
Round head bolts with oval shoulder
,
Carriage bolts square neck
,
Coach bolts
,
CSN 021329
,
seating screws