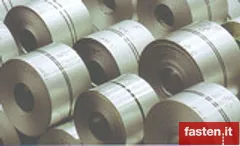 Suppliers of Sheet metal, plates, raw material for blanking
SEND YOUR REQUEST FOR QUOTATION FOR SHEET METAL, PLATES, RAW MATERIAL FOR BLANKING
Full list of Suppliers of Sheet metal, plates, raw material for blanking
SEARCH RESULTS: 108

CANCO FASTENERS
CANCO FASTENERS is an international manufacturer of high quality fixings and fasteners, active since 50 years. We have a variety of nuts, bolts, washers, screws, threaded bars, clamps, rivets, wire ropes, nails and raw material in M.S. S.S 316, 304 grades and brass.

NB Norder Bandstahl GmbH
Distributor of coils and strips in stainless steel
CERTIFICATIONS:
ISO 9001-2008 | ISO 14001-2004
Nichelcrom Acciai inox S.p.a.
Manufacturer of plates, sheet metal and flat bars in stainless steel. Stock capability of 50.000 tons of stainless steel

TECNOITALIA PRODOTTI INDUSTRIALI
Manufacturer of wires, profiles, plates, strips in aluminium, copper, bronze, steel and special materials. Galvanic treatments

VDM Metals Group
Manufacturer of sheet metal, strips, rods and wires in nickel, cobalt and zirconium alloys as well as high alloyed special stainless steels

Walsin Lihwa
Leader manufacturer of stainless steel wire rods and bars with an annual output of more then 150.000 tons. The company also produces stainless steel coils, foils and tubes.

Zapp AG
Stockholder of semi-finished products (wire, bar, profile, strip) of stainless steel and special alloys. The company has been founded on 1701 and has nowadays more than 1000 employees.
CERTIFICATIONS:
ISO 9001:2008
Martinox srl
Manufacturer of strips in stainless steel for the production of washers and stampings. Cold laminates with thickness (0.10-4.00 mm) and width (10-200 mm). Strips from 3 mm to 300 mm wide and 0.10 to 3 mm thick.
INFORMATION RESTRICTED TO THE REGISTERED USERS
A...
Distributor of high-quality metals and special alloys, non-ferrous metals, rare alloys
INFORMATION RESTRICTED TO THE REGISTERED USERS
A...
Manufacturer of pipes and plates in stainless steel
Related searches:
Sheet metal, strips, coils, profiles and plates in aluminium
,
Sheet metal, strips, coils, profiles and plates in steel and iron
,
Sheets, strips, coils, profiles and plates in brass, copper and bronze
,
Sheets, strips, coils, profiles and plates in stainless steel
,
Sheets, strips, coils, profiles and plates in superalloys
,
Hastelloy
,
Incoloy
,
Inconel
,
Monel
,
Nimonic
,
steel coils
,
Strips
,
Titanium